Welcome to Comforts of Home Vet Care, PC
Your House Call Veterinarian in Birmingham, AL and surrounding areas.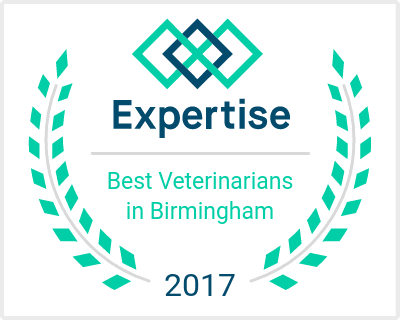 Happy to be recognized! Click on the icon above to learn more.

***UPDATE!! We got final approval for the Hollywood Feed Hoover location, so we will be there starting Thursday, January, 26th from 10am-noon.
Check out the Express Wellness Clinic page for information on the days and times for all our clinics.

More GREAT NEWS!!
We are starting a New Express Wellness Clinic in Hoover beginning Thursday, January 26th, 2017 at Hollywood Feed!

We are starting a new Express Wellness Clinic in Crestwood at Sheppard's Pet Supply Co. starting Wednesday, December 21st from 3-5pm!




To view all of the available Express Wellness Clinics in the Birmingham Area, click on the Express Wellness Clinics tab above





Call us at: 205-907-4000

House Calls for your pets in the Birmingham Area,,,We now accept Apple Pay and will be up-to-date on accepting the newest chipped credit/debit cards to minimize fraudulent charges!!

Low-Cost Vaccine Clinic will stay at Grainger Industrial! Click on Express Wellness Clinic tab for more information and see where else we will be!
Dr. Walker is now an Associate Veterinarian with Galleria Animal Clinic, LLC in Hoover.
Comforts of Home Vet Care, PC does NOT offer after-hours or emergency care. Those services can be performed at the Emergency & Specialty Animal Care at 205-967-7389 or Alabama Veterinary Specialists at 205-481-1001.
Dr. Walker provides affordable wellness care for your dog and cat pets, and house calls start at $85 plus the cost of the services for each pet. There is only one House Call Fee no matter how many pets you have. We treat your pets like the valued family members they are.
R. Vaughn Walker, DVM
Birmingham, AL | Comforts of Home Vet Care, PC | 205-907-4000
208 Opal Ave
Hueytown, AL 35023